Best Fashion Stores for Women Over 50
Best Fashion Stores for Women Over 50
As soon as I hit forty, I found it really hard to find clothing online.  The young stores were too young (dresses were way too short) and the older or 'mature' (gah I hate that word) clothing were so Grandma like that there is no way I would be caught dead wearing white pants and a pressed 'blouse' ick!
There had to be clothing stores in-between – and there are – right here!
More Reading:
Boden is worldwide and has not long been in Australia.  Boden has lots of timeless, quality pieces that will last you forever.  I particularly love their jersey dresses… They fit beautifully, wash well and never lose their shape.  Perfect for casual workwear, smart casual wear and awesome fitting jeans.  If you care about fabric and how it feels against the skin, Boden is your go-to.
Check out their website for their range (they also have menswear, childrens-wear and baby clothing).
10% OFF
10% OFF Full Priced Items
10% off full price, free delivery and returns over $200 (AUS)
10% off full price, free delivery and returns over $200 (AUS) Show Less
GO TO THE BODEN WEBSITE

Birdsnest is one of my personal favourite sites because they carry a huge range of brands.  Plus if you are like me and have a limited sense of style, check out their 'outfit' section, great when you can't decide what to wear!  They have a real knack of putting different clothing together to form an entire outfit.  Plus you can shop for body shape, personality, and occasion. Genius!
GO TO THE BIRDSNEST WEBSITE
This brand was made famous by Oprah years ago. Their jeans have this amazing 'stretchy' ability that pulls you in a full size!  They make your butt look pert, your hips slimmer and your legs fabulous.  I have two pairs of these – and yes – they are pricey – but they have lasted me over 10 years and still look fantastic and I get comments all the time when I wear them!
Check them out here >
Jacqui E is the go-to online clothing store for workwear that is great quality and reasonably priced. I love their pants – they always fit so well and last forever!  Their dresses are simple and stylishly fitted. Very feminine styling with a work-appropriate look.
GO TO THE JACQUI E WEBSITE
St Frock is an online women's wear store that has loads of comfortable and feminine dresses that are very well priced. They cater to plus sizes and you can shop depending on hem length, sleeve length and occasion.
Check out their range here >
At first glance, you may not think that The Iconic is very age-appropriate.  But wait – it has such a massive collection – I have found some GOLD in there – they really cater to all ages and stock some of the best brands for mature ladies! From activewear to ball gowns, workwear and casual gear – they have it all.
Some of those brands include:
Check out their full range here >
If you love tailored clothing and like to invest in perfect-fitting pants or need office-wear that still looks chic – Forcast is your gal.
Check out their range here >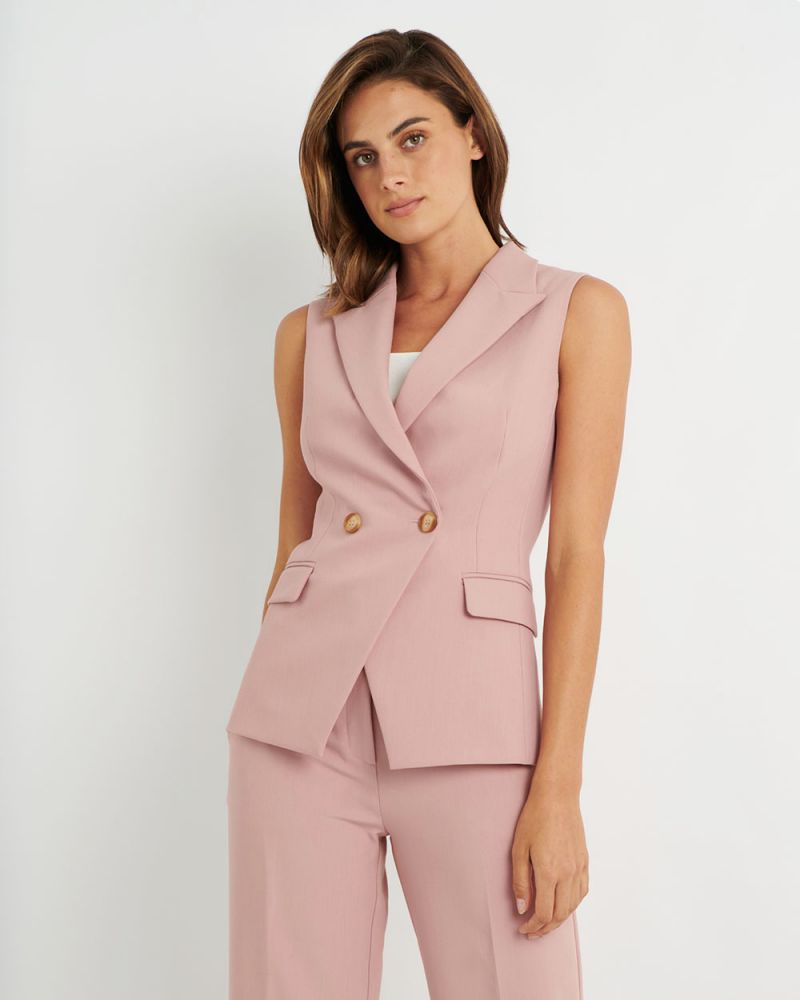 The Toni Sleeveless Blazer from Forcast
If you are looking for a smoking hot dress to wear to a wedding or just want your curves to shine – then Pasduchas is worth checking out.  Sure, they have some 'younger clothing' in there, but you'll also find some midi-dresses that make your figure go 'Va Voooooom'.
Check out their range here >
The Greenwich Sleeve Midi Dress by Pasduchas
One of the most popular brands for the over-40 woman.  Casual wear made from beautiful breathable materials.
Check out their range here >
Now before you roll your eyes, some might consider Noni B a 'Nanna' shop, but if you hunt through the clothing, quite often you can find a cute little number perfect for you! One of my favourite navy polka-dot dresses I found at Noni B!  Mainly for over 50's – it is worth a look!
Check out their online range here >
Funny name – but beautiful fashion.  They are based in the UK (but post to Australia) and offer deluxe workwear for women.  Tailored trousers, jersey dresses and blazers to die for.
Check out their range here >
Kristina Jersey Pencil Dress by Goat Fashion
Beautifully tailored cotton shirts, linen dresses and t-shirts that actually go down to where they should. David Lawrence at first glance can seem a little 'stuffy' – but they have some great staple pieces that are so beautifully made and tailored – that this is my go-to brand now for classic pants and workwear.
Check out their range here >
Tulio is an Australian based Mature Women's Clothing website that has beautiful and stylish fashion with the older woman in mind.  Longer lengths (especially t-shirts) and flowy fabrics.  They stock brands such as:
Check out their range here >
14. Taking Shape
Taking Shape has a beautiful range of women's clothing – many with gorgeous materials such as bamboo (oh bamboo – I love how you breathe…).  They cater for sizing from 12 – 24.
GO TO THE TAKING SHAPE WEBSITE
Veronika Maine is renowned for its technical innovation and high-quality finishes. Timeless pieces that will last a lifetime. They also have a dress I'd kill for but it is $220 and my husband would seriously kill me if I spent that much on a dress!
Very high-quality fabrics and styles.
GO TO THE VERONIKA MAINE WEBSITE
Seed Heritage is the best place for high-quality casual wear.  They have adorable jumpers, coats and shoes.  The perfect outfits for travelling.
GO TO THE SEED HERITAGE WEBSITE
Blue Bungalow has clothing that covers more of the parts we don't like, and accentuates the bits we do! They have workwear, weekend wear, resort wear and clothing for plus size women.  Best of all, they have a massive range of Bamboo clothing – which is soft, breathable and drapes beautifully!
They have free shipping for orders over $100.00
GO TO THE BLUE BUNGALOW WEBSITE
Marcs is like a 'More Fashionable David Lawrence'.  I love their t-shirts and shorts.  Tailored, classy and beautiful fabrics.
Check out their range here >
19. Trenery
Luxury in everyday wear.  Trenery focuses on craftsmanship, their clothing is beautifully made from the best fabrics available le.  Beautiful linen dresses, blazers, wide-legged pants, collard shirts and shift dresses.  Timeless fashion.
Check out their range here >
CoEdition is a US site that caters to US sizes 10 – 26.  They have seasonal fashion from contemporary designers. They carry over 80 different fashion brands and have the perfect look for all occasions.
GO TO THE COEDITION WEBSITE
We are adding to our list all the time – so if you have an inclusion – please drop us a line to let us know!