16 Perfect Zombie-Proof Houses to Survive the Apocalypse
I'm a big fan of The Walking Dead, and Zombie movies in general. But being a fan is one thing, building your very own zombie-proof home….well, that is quite another.  
We should get real for a brief moment. I don't know if we have to blame Rick Grimes, Brad Pitt or Will Smith for this, but never let this fact come to you as a surprise. But, it's a truth we all need to acknowledge.
Media says there are a lot of things that will help us survive the zombie-infested end of days. Weapons, nourishment, water, and secure havens are absolutely important, while acquiring weapons and different materials is another story. But securing your homes against zombies is something most property insurance companies never truly consider.
Several anxious and wealthy people have splurged their much coveted wealth in building zombie-proof homes. Seriously.
Here are some examples of zombie-proof homes from around the world to guarantee survival in zombie apocalypse.  These homes are just about inpenetrable!
1. "The Safe House" by KWK Promes
Location: Warsaw, Poland
This home described as the world's first 'Zombie Proof Home' is located in Poland. The severe outside walls have no visable windows and can be totally closed off to the outside world.
To enter this home you will need to go via the retractable drawbridge.
The interior of the house has movable walls that has a stand out passage, which is situated on the second floor after traversing the aforementioned drawbridge.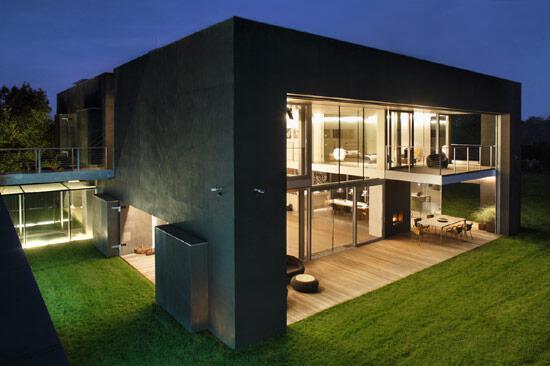 Say "Hello" to zombies while in the pool! Huh??!!
2. Bjork's House
This house situated at Elliaey Island close to Vestmannaeyjar, a little archipelago from the southcoast of Iceland was initially a thriving community of five families. However, they soon realised the place is not good for fishing and raising cattle so they moved out.
The most secluded house in the world was a Thank You gift to Bjork from the Icelandic government for giving their country a remarkable global recognition. On the other hand, Bjork never accepted the gift. 
You can be miles away from the zombies, but I guess you'll die from starvation. Bummer.
3. Dunbar Rock, Honduras
The property on this Dunbar Rock has six areas each with private shower and gallery. It is a perfect diving and fishing spot where an abundant aquamarine life thrives 30 feet below.
Do fishes get zombified too? I hope not. For their sake.
4. The Cold Warfare Adirondack Missile Silo House
Looking outside the neat log cabin home looks much like any other house but surrounded by the beautiful Adirondack State Park. Daily Mail reports that the property was developed by Bruce James Franscio and his partner Gregory Gibbons and is located in the picturesque Adirondack State Park near Lake Placid, the site of the 1980 Winter Olympic Games, in Essex County.
Some of the zombie-proof features of the house are an upper floor where a luxury open-plan living area welcomes every guest, complete with a granite work top and don't forget about the stunning views of the surrounding Adirondack State Park; a door in the kitchen that leads to a staircase down to the missile storage area where an entry code is needed to get past the reinforced metal door; and lastly, your very own private run-away.
This silo home can be yours for just $1.75 million dollars. What a steal.
5. The Armored House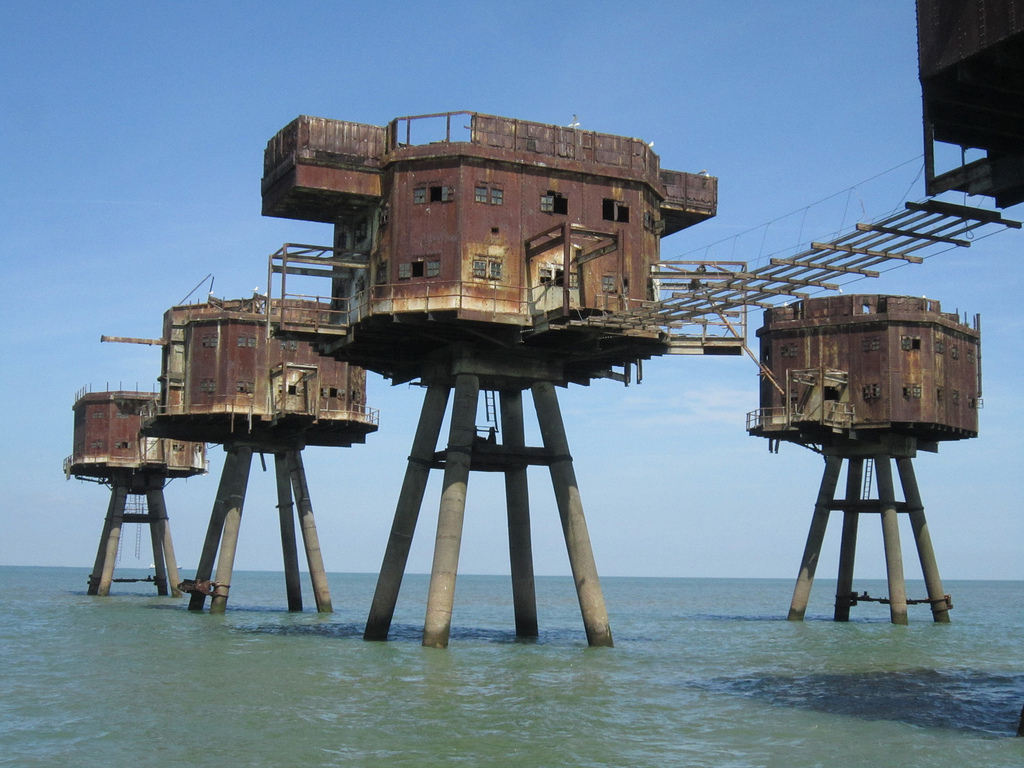 Unless Zombies can swim to the middle of the ocean, you will feel more than snug in these bullet proof homes.  They are the remnants of a navy fort and are occupied by only 40 people.  The only problem is supplies…..
6. Cliff Side Homes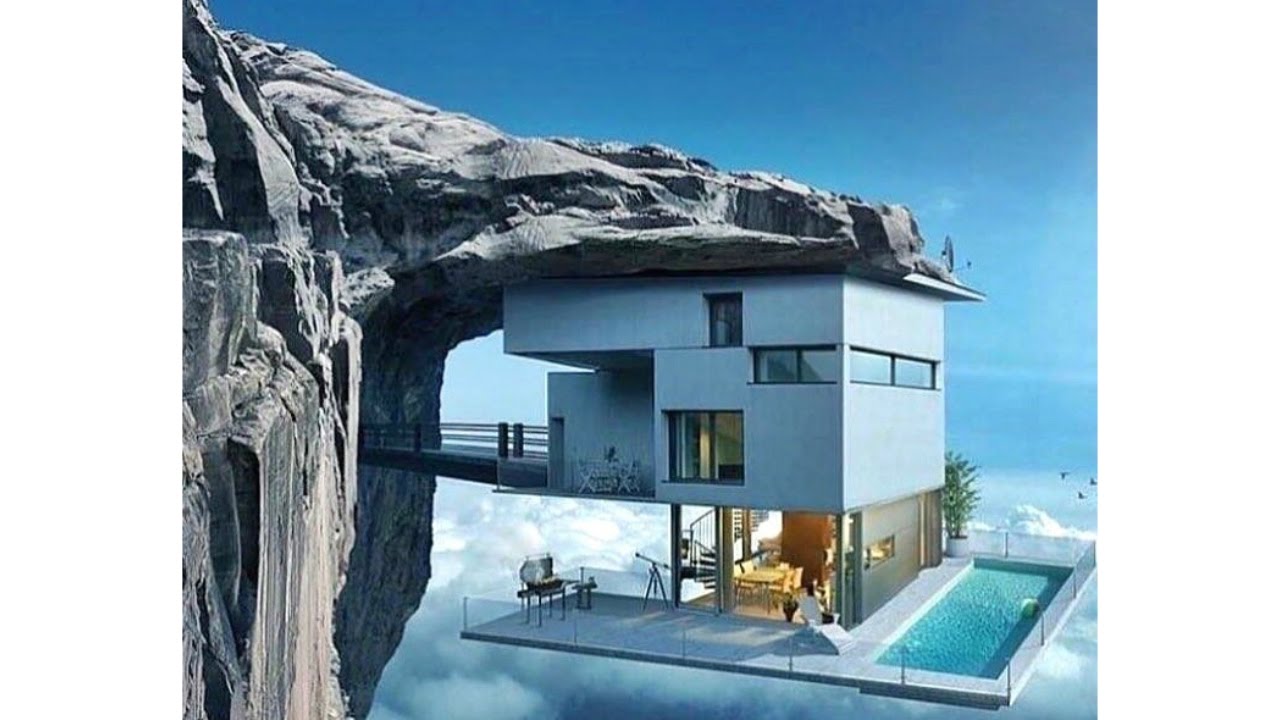 Nothing says 'Only the rich deserve to live' like one of these palatial cliff-side homes.  If I heard a creak in one of these homes I'd never sleep again!
7. Survival Bunker (Kasias Trl, Snowflake, Arizona)
Looks more like an outhouse than a zombie shelter…there's probably more to it though.
8. Bomb Shelter
The Spanish-style chateau is dazzling, however, it didn't make the rundown for its tile floors and wood-shot roofs yet for the reinforced hideout on the property. Two basement entryways open to uncover the ideal spot to hang out while a shooting star collides on Earth or a zombie herd heads your way.
9. Titan Solid Home (Sturgis South Dakota Station)
If having an underground silo freaks you out, why not a regular but sturdy silo home above surface like the one in Sturgis, South Dakota. This house once held a Titan rocket and now houses a metal shop with living quarters. The Titan rockets were intended to destroy approaching enemy missiles. They were hosted in silos throughout the country before subverting it in the late 1980s.
10. Earth Station (Jamesburg in 18773 Cachagua Rd, Carmel Valley, CA)
Apocalypse survival home? Don't sweat it.
The station was fabricated to military specifications to withstand a 5-megaton atomic impact. The 60-section of land parcel likewise highlights another house and a barn.
Another amazing fact is that the Jamesburg Earth Station got the first pictures from the moon in 1969. We need this to track down zombies. Apparently.
11. Stefano Boeri's Urban Vertical Forest
Milan-based structural engineering studio Stefano Boeri's Vertical Forest is often a residential twin superstructure called Bosco Verticale constructed in the chic city of Milan, Italy. This energising natural private venture has been implied for developing forests in the sky and making occupants and neighbours breathe fresh air.
12. The Winding Tower Shime Coal Mine in Okazaki, Japan
This 156.3 feet large structure was made between 1941 to 1943 and stayed functioning for more in comparison with 21 years before it had been shut down throughout 1961. This bleak partially moss-covered concrete tower has been abandoned for nearly a half century yet its crumble serves as a reminder of a harsh industrial past when coal fuelled mighty engines of destruction.
With this creepy look, it makes me think this is more a place where zombies hang out. Runnnn!!!
13. 1000 Islands in St. Lawrence River
The small island in Ontario, Canada where I just hope zombies won't notice. At least they can't swim…we hope!
14. Atlas F Missile Base Silo Home
In 1997, Bruce Townsley paid $99,000 to have an Atlas F Missile Base Silo Home in Abilene, Arizona. Bruce evidently got the thought while viewing Johnny Carson show inside the late '80s.
15. Nike Missile Basic, Southeast Indiana
It appears to be a regular garage on the outside. But…
This 14.5 acre property boasts substantial luxuries inside:
3 underground missile magazines each consisting of 5000 sq ft
One missile magazine converted to residential:
""Kitchen, 4 bedroom, 2 bath, exercise room, indoor swimming pool, jacuzzi tub
Second missile magazine converted into workshop & garage space
Single phase electrics & city water
High security chain-link fence topped with barbed wire
Paved access, with remote control rolling front gate
Horse barn with 4 stables
16. Ark Two Facility
Whoever comes in the Ark shall be saved.
The Ark Two Facility in Canada carries a 10,000 sq/ft atomic asylum as a major feature of this home. This is the biggest privately constructed atomic waste unit on the planet. A total of 42 vehicles were filled with at least 12 inches of high quality concrete used for the structure which was vigorously reinforced with rebar.
The Blueprint…
Access to the underground safe house…
Kitchen…
Bunks…
Other amenities: 
Surgery (so far still unequipped)
The Laundry room
The Conference Room
The Tool Room
The Chapel
The Exercise Areas
A Privacy Room
They don't look depressing at all…
Would you build a zombie shelter? Or live in any of these? Or is it all just a bit too far-fetched?