100+ Unique Unisex Gender Neutral Baby Names
2021 is the Year of the Gender Neutral Baby Names
A current trend in baby names is a move away from specifically gendered names and into the world of unisex or gender-neutral baby names. We've decided to bring both of those trends together in this list and created a list of 100 unique unisex and gender-neutral baby names!
This trend of gender-neutral baby names certainly makes things easier on the day of the birth!
100 Gender Neutral Baby Names to Consider
Addison or Addisen or Addisson
Means 'Son of Adam'. Addison has other spellings such as Addisen, Addisson, Addisyn, Addysen and Adison.  Before the 1990's, Addison was traditionally a boy's name, however, in the 1990's it swapped to become a girl's name.
Adrian
Ainsley or Ainslee
Originating from a surname, Ainsley is a distinctly Scottish name without gender bias.
Airlie or Airleigh
If you're a fan of Australia's tropical coast, this name will suit your baby down to its sandy toes.
Alby or Albeigh
Alby is the name of a suburb in Stockholm, Sweden.  It means 'Village of Alder Trees' in Swedish.
Alex
Alex is the shortened form of 'Alexander' which means 'Defender of Men'. Alex has been a popular gender neutral baby name for years, with most shortening 'Alexandra' to Alex.
Comfy Koalas offer an Inexpensive Range of Eco-Friendly Disposable Nappies
Andy or Andie or Andee
Simple and delicious.  Andy is a wonderful name for both sexes.  Andy was last popular in 1964 but now that gender-neutral names are more popular – it is rising to the top of the baby name popularity list!
Famous Andy's include:
Andie MacDowell
Andy Warhol
Andy Griffith
Angel 
It might sound like a girl's name, but no man personified the name Angel like our favourite man from Buffy the Vampire Slayer.
Archer
Archer means 'Bowman'.  It has Anglo-saxon origin.
Archie
Archie as a baby name has seen a resurgence after Prince Archie was born recently, the son of Prince Harry and Meghan.
Arden 
An English surname that may originate from the Celtic word for 'high'.
Arlo
A name of unknown meaning, this moniker has been wildly accepted in the world of celebrities and is making its way, very slowly, into the mainstream.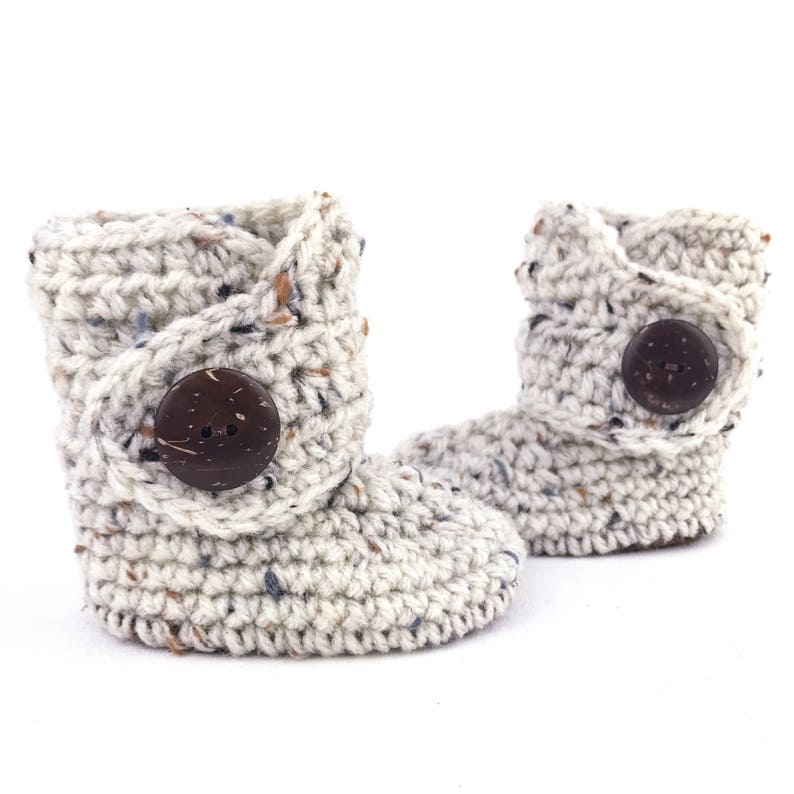 Stockist: Raspberriez (Ships from United States)
More Reading: List of Environmentally Friendly Disposable Nappies
Arren or Aryn
A slightly less masculine version of the traditional Aaron, this name is ideal for those who just want a toe out of the box.
Ash
Asher
This name is perfect for your happy baby boy or girl as Asher means happy or blessed.
Aspen
Traditionally a boy's name, that tide is now changing and there are an increasing number of Aspen girls now!  It is a gorgeous name that means 'Quaking' or 'Trembling'.  It is also a fancy ski resort in Colorado.
Aubrey
Aubrey is a French name meaning 'Elf Ruler'.  Perfect for the parents who love The Hobbit!
August
Month names have always been in and out of popularity, but August, in particular, has seen a surge of late, although it remains rare. August is derived from the first Roman Emperor, Augustus who defeated Cleopatra.
Luxury Baby Swaddle Blanket – Gender Neutral Colours – Grab it here >
Austin
A name that may have links to Augustine, but is today more associated with the city, Austin remains an unusual and rare name in Australia.
Avery
Avery is a name derived from the formal and traditional name 'Alfred'.  It means 'Ruling with Elf wisdom.". Made popular from the hit television series, 'Nashville'.
Bailey
This name has been popular for a few decades now, but still stands the test of time.
Bellamy
Billy or Billie
Means 'Resolute Protector'.  A really pretty name for either sex.
Blaine or Blane
Thought to mean 'yellow' in Gaelic, this is a name that would suit any golden-haired baby.
Blair
Coming from a Scottish surname meaning 'field', this might seem like a masculine name, but as we know from Gossip Girl, that is not the case.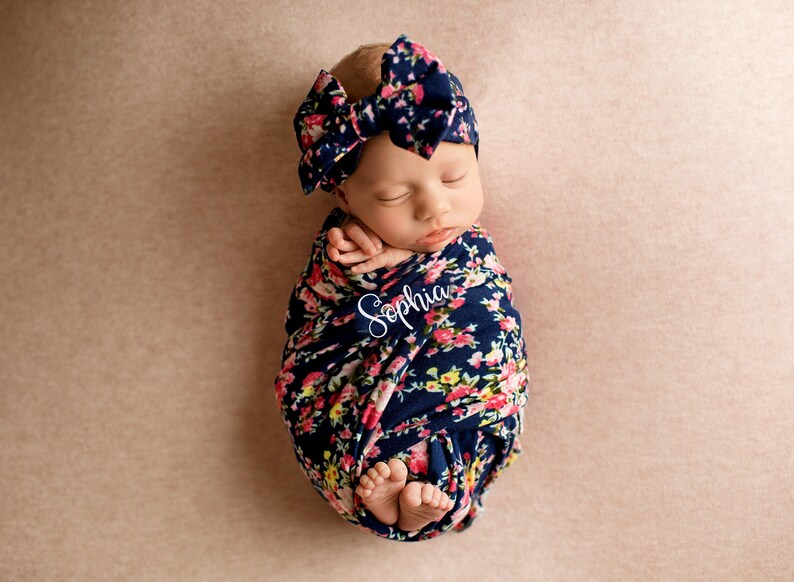 Gender Neutral Baby Wrap from Kennedy Claire Couture  (Ships from United States)
Blake
Blake is an Old English name meaning 'Shining Bright'. Famous Blake's include:
Blake Lively
Blake Sheldon
Bobbi or Bobby
Bodhi
This mindful name harks back to the tree that Buddha sat under to gain enlightenment. Bodhi became popular when the original Point Break movie came out – it is a popular baby name in the United States.
Braidy or Brady
An unusual twist on Brady, this unisex name comes originally from an Irish surname.
Brennan
More of a boys name in the past, another sturdy surname first name making the rounds in 2018.
Brent
Means 'Burnt Land' which is great for us here in Australia.
Baby Shower Favour Boxes – Grab them from Etsy
More Reading: How to Hold a Virtual Baby Shower 2020
Brett
Brett has always been a boys name in the past, but it makes for a really beautiful girls name too. It is a French name meaning 'Breton' or someone from Brittany in France.  Famous Brett's include:
Brett Favre, football player
Brett Butler, Actress
Brodie or Brody
Another Irish surname, and a variant of Brody, this title was a place name that may have meant 'ditch'.
Brook or Brooklyn
An Old English surname, it means 'Some who lives near water.'
Wooden Baby Blocks in Blue and Grey from Pretty Little Block Co
Cameron
A Scottish baby name meaning 'Crooked or Bent Nose.'.  Can be shortened to 'Cam'. Famous Cameron's include:
Cameron Diaz, an American Actress who just welcomed her first child with husband Benji Madden
Cam Fowler, a Canadian born American professional ice hockey player.
Campbell
Another surname-based first name for both sexes.
Carson or Carsen
Originally a Scottish surname of meaning unknown, this has been an accepted name for boys and girls for some time.
Casey
Of Irish origins, has been a popular Unisex Baby Name for decades.
Cassidy
Made famous by 60's heartthrob David Cassidy, it is a really modern and trending name in 2018.
Chandler
Not just from Friends, a solid name.
Channing
Let's face it – we all know who we think of when we hear this name.  Oh Channing, how I love thee!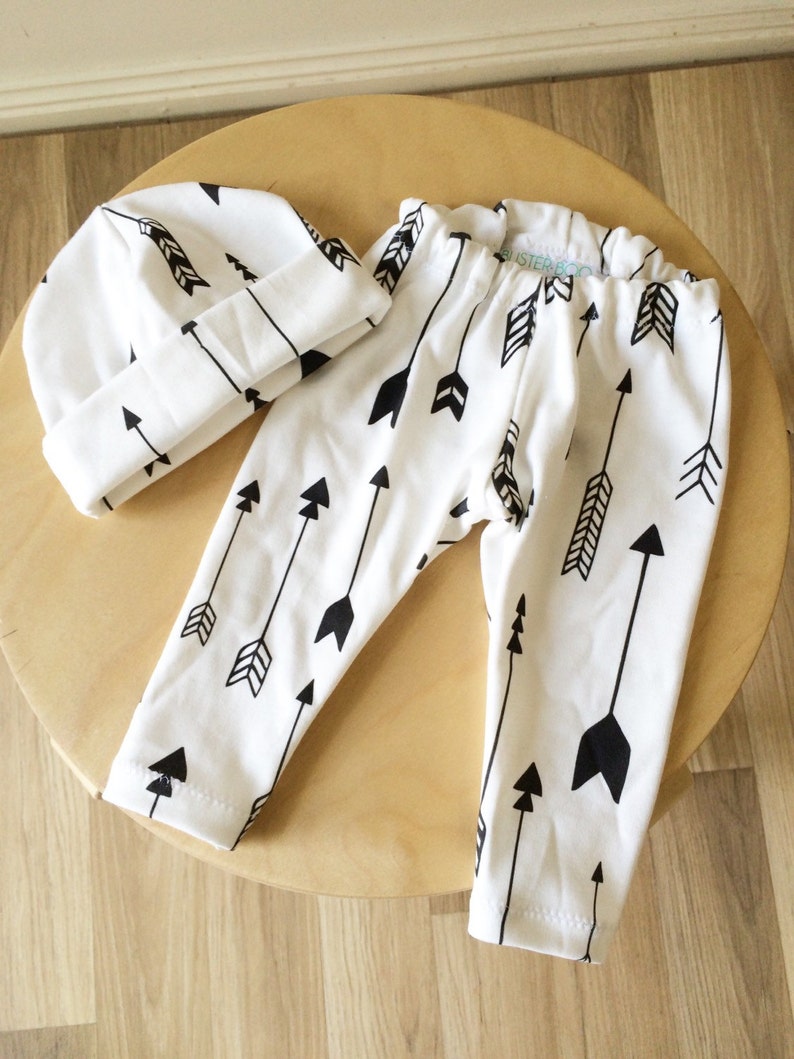 Stockist: Elske Little Style (Ships from Australia)
Charlie or Charley or Charleigh
A traditional adaptation of the name 'Charles'.  Charlie is commonly a shortened name for 'Charlotte' as well – so it is perfect for both.
Chase or Chaise
Thought to have been an original nickname for a huntsman, Chase is popular with boys but suits the ladies as well.
Cobain
Cody or Codee
This name is short and sweet, with a few Irish links, and easily altered to Codie for a little more of a playful vibe.
Cohen or Coen
A common Jewish surname thought to mean 'priest', this name also has links to the musician and may be a great name for a musically passionate couple's baby.
Corey or Cory
Is an old Gaelic name meaning 'Cauldron'.
Dakota
Dakota is an American Indian name meaning 'Thought to be a friend'.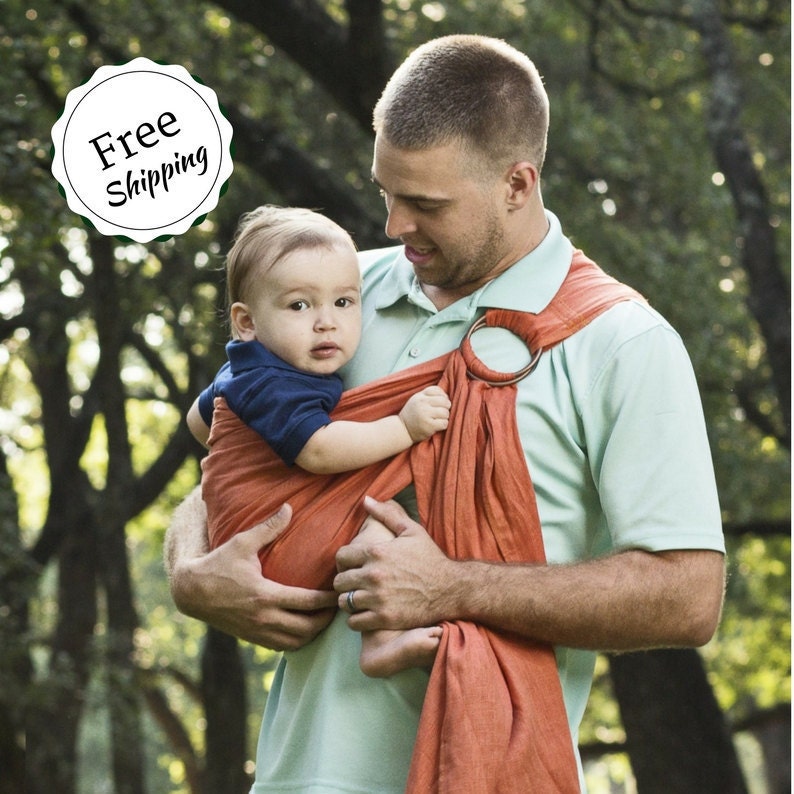 Bibetts Pure Linen Ring Sling Baby Carrier in 'Dark Adobe Orange'. Stockist: Bibetts (Shipped from United States)
Dallas
It might be a city in Texas, but it originates from a Scottish place name meaning 'meadow dwelling'.
Dane
Dana
Depending on the pronunciation, this name can easily fit a boy or a girl (i.e. Dar-na for boys, Day-na for girls). It has a number of meanings, including 'wise' in Persian.
Darby
An English surname probably sourced from Derby, it's thought to mean 'deer town' in Old Norse.
Darcy or Darcie
An unusual name for boys, we think that Darcy is just perfect for a girl as well!
Darian
A more unisex friendly version of the name Darren, the meanings and origins of this rare name are uncertain.
The Ultimate Welcome Baby Gift Hamper – Grab it here >
Declan or Deklan
An English version of an Irish name, Declan has been popular with boys in the past but has been appearing as a girl's name of late.
Denver
A good Country name for both boys and girls. Long live John Denver.
Devin
Both an English and Irish surname that may have links with the Latin word for 'divine'.
Devon 
Thought to originate from the region of England that has the same name, this locational moniker is timeless and unisex.
Dian 
A simple name that means 'candle' in both Indonesian and Javanese.
Domino
Let's face it, the game isn't as popular as it used to be, but the name still rocks!
Drew
Very modern but has been around for a long time!  Means 'Manly One'.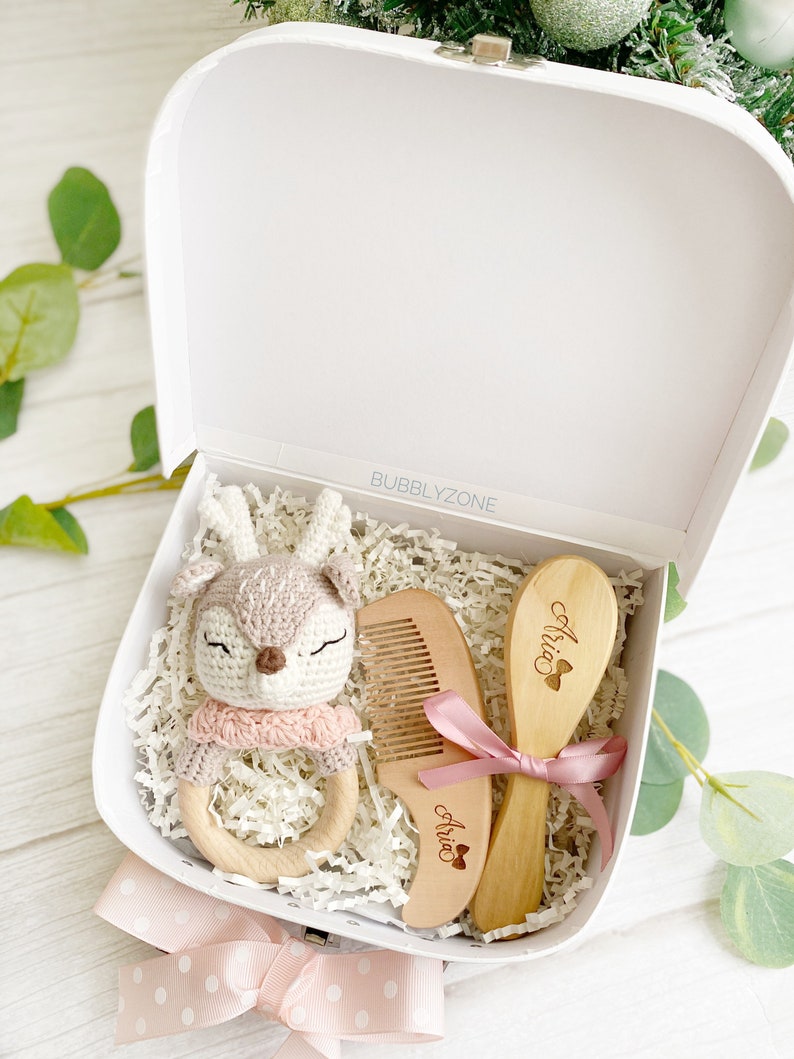 Baby Shower Gift Hamper Gender Neutral from Bubbly Zone
Dylan
A popular name made infamous by Bob Dylan, was a popular boys name for years, now more and more girls are taking the name too.
Easton
An English surname meaning 'east town', this has always been a popular boy's name, but again, the celebrities are leading the charge, daughters first.
Elian 
A Dutch variation that has links to a number of names that start with Eli, this is a unisex name with a simple nickname.
Ellery
An Old English name meaning 'Alder Tree'.
Ellis
A name seen in both England and Wales that may have been derived from Elijah, or a Welsh surname.
Emerson or Emery
An American name meaning 'Brave and powerful."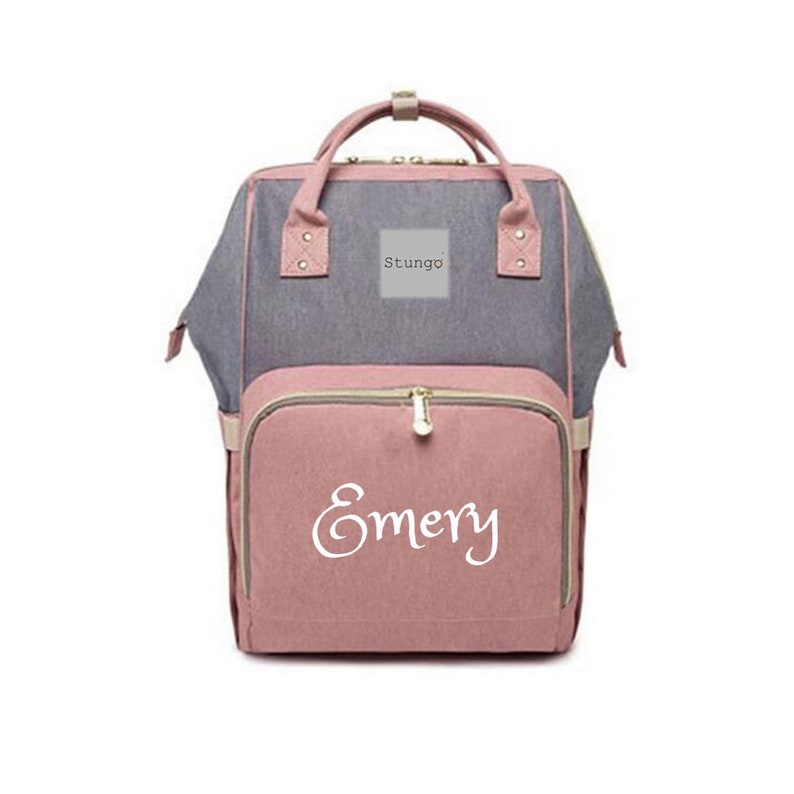 Personalized Nappy Bag for Baby Emergy – Grab yours here >
Emery 
Introduced to England by the Normans, this unisex name remains a rare, and therefore unusual choice for your child.
Evan
The name Evan has been a common boy's name for some time, but there have been a number of famous female Evans, and that number grows.
Ezra
Ezra his super hipster, perfect for both baby boys and baby girls, is simple to spell and just rolls off the tongue.
Fabian
Means 'Bean Grower'.  A traditional Italian name.
Finnegan
Finley or Finleigh or Finlee
Started out as a female version of Finn, but now perfect for all sexes.
Florian
A Roman name which is Latin for 'Flower'.  This name is very popular in Germany, Austria and Switzerland.
Flynn
An Irish surname that was more popular among boys, there have been a number of parents turning the tables on this name.
Mommy Milestone Wine Labels from The Ritzy Rose
Fox
This name is growing in popularity among the sons of weird-loving parents, but we think it works just as well as a girl's name, particularly for a fiery redhead.
Frankie or Frankee
I adore this name!  It is a version of 'Francis or Frances' – which is interchangeable as well!
Glenn
Gray or Grey or Grae
There are a number of colour names out there, and although this one is often given to boys, it can easily suit a girl as well.
Grayson or Greyson
Grayson means 'Son of a Stewart'.  It has primarily been a boy's baby name – but is perfect for a little girl too!
Hadley or Hadlee or Hadleigh
Coming from an English surname that means 'heather field', Hadley has been a unisex name from the onset.
Haris or Harris
Possibly originating from Greek as the modern version of Chares or Charis, this is an unusual name that doesn't worry about gender.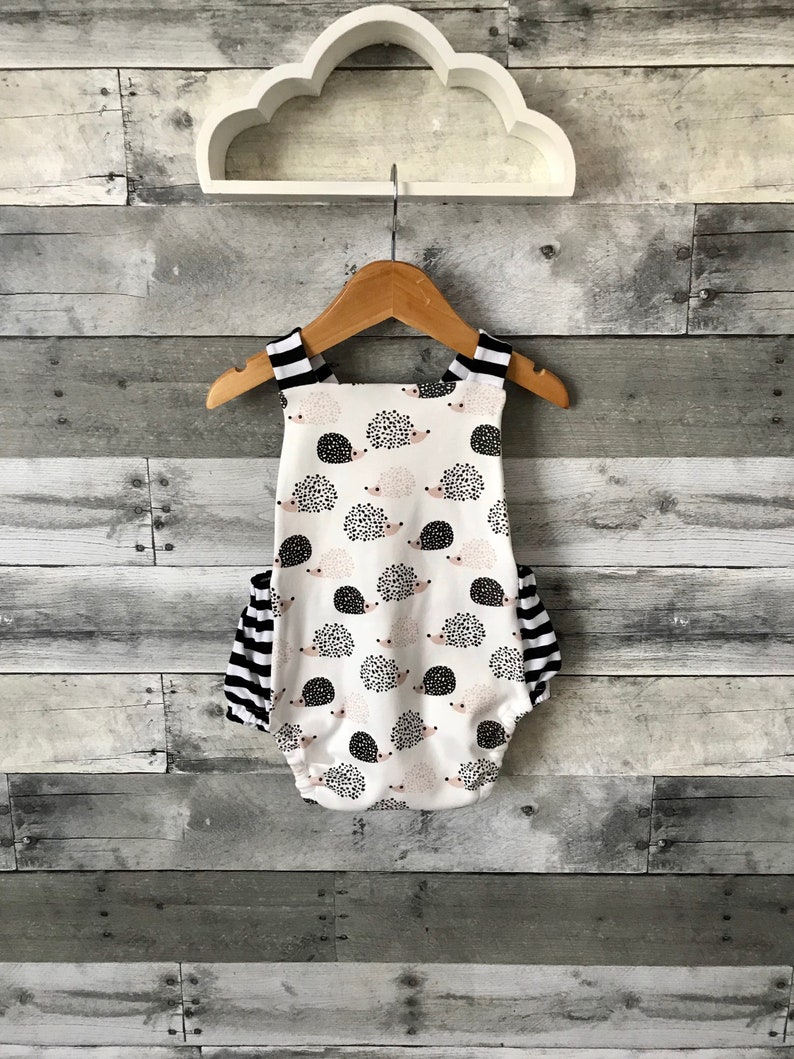 Gender Neutral Baby Onesie from Chasing Joyco (Ships from United States)
Harlem
Named after the district in Manhatten.
Harlow
From a location surname that may have meant 'rock hill', Harlow is a trendy unisex name for your little one.
Harper
Means 'Harp Player'.  The Beckhams called their daughter Harper.
Haven
Let your child feel protected inside themselves with this moniker, that is sure to suit both girls and boys.
Hayden
An English name meaning 'Hedged Valley'.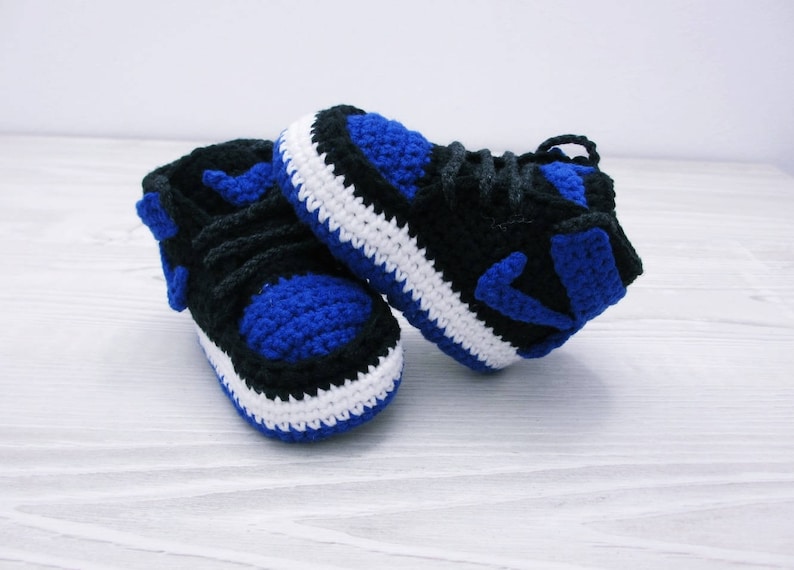 Gender Neutral knitted Nike Booties from Mom Bear Knit (Ships from Bulgaria)
Hero
It might seem a little high and mighty, but this name gives your little one something to live up to.
Hunter
Although this one has a little more of a masculine flair, there's nothing stopping you challenging tradition by imparting this moniker on your daughter.
Indiana or Indi 
As Mr. Jones taught us, there are no limits to what a person can do when their name is Indiana. Plus, we love the nickname Indi!
Indigo
As a colour, this one is deep and royal, so why can't the same be said for your child?
Jaden
Jalen or Jaylynn
An invented name that was made popular by a US basketball player, it's one of a trend where the combination of two names (in the basketballer's case James and Leonard) become mainstream.
Jaya
Coming from the Sanskrit word which means 'victory', Jaya is an Indian name often given to both girls and boys.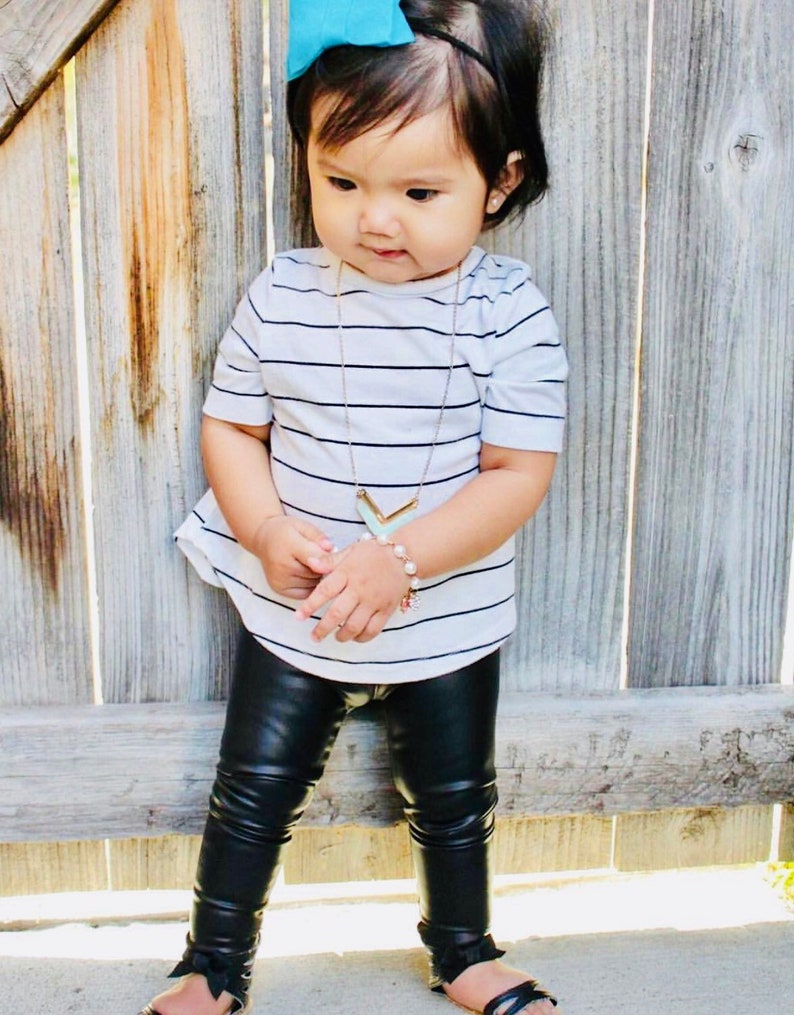 Stockist: Peace Love and Baby Shop (Ships from United States)
James or Jaymes 
If you aren't sure about the traditional James, but you like how it sounds, this name is an unusual twist on the old and boring.
Jazz
If you're a fan of the music, or you're in love with the few names containing Z, then Jazz is a great way to give your kid a cool name to last a lifetime.
Jersey
Possibly coming from a Norse surname, but also a US place name, Jersey is a genderless name that you won't hear too often.
Jesse or Jessie
Oh Jesse your so fine, your so fine you blow my mind hey Jessie (clap clap calp), hey Jesse (clap clap clap).
Jordan
A Hebrew baby name meaning 'To Flow'
Joss
Short form of Jocelyn, which was once a masculine name, this title is also the nickname of imagination powerhouse Joss Whedon.
Baby Milestone Cards from Etsy
Jude 
Held by many ladies and gentlemen throughout the ages (including Jude Law), this name might take a little getting used to, but it's definitely one you'll love.
Jules or Jools
Jules is a Latin name for 'New Beard'.
Justice
Kade
Kaden or Caden
Means 'Companion or friend'.
Kai 
This name originates in Hawaii, where it means 'sea'. Traditionally, it has been a boy's name, but traditions are always changing, case in point!
Kelsey
Irish for 'Brave'
Kendall
A surname that was once an English place name, this unisex name has a classic, even posh feel to it.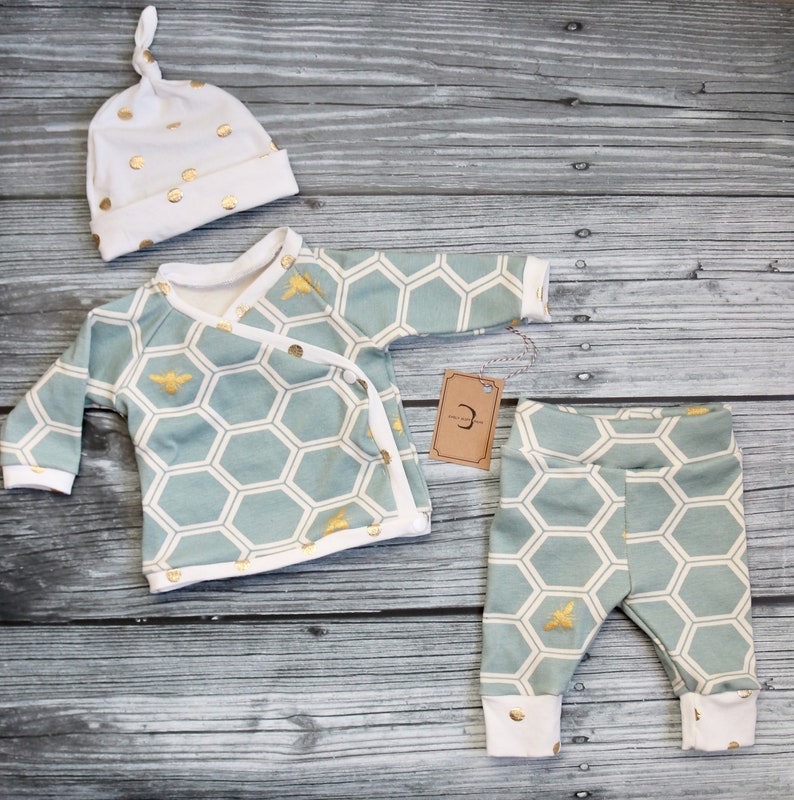 Gender Neutral Baby Coming Home Outfit from Early Gift Gear (Ships from United States)
Kennedy
Another popular surname that has become a popular first name.
Kieran
An Irish baby name meaning 'Little Dark One'.
Kyle
Kyle was made popular by the beautiful Kyle Richards from The Real Housewives of Beverly Hills.
Landry
A very formal sounding name.
Lake
Lane
Simple, but with more than enough potential for a classic, Lane is a name that goes both ways.
Leighton
I like name like this that can be shortened.  If little Leighton grows up to be a surfer, we can call him or her Leigh.  A lawyer – Leighton still sounds super respectable.
Lennon
Another popular rock star's surname turned into a wicked baby name.  Plus have you ever heard of Lennon and Maisy??
Custom Cookie Fondant Stamp Perfect for a Baby Shower – Grab it from Etsy
Lincoln
Lincoln is an English name meaning 'A Roman colony at the Pool'.
Linden
Linden is an alternative to the names Landon and Logan.  It means 'A strong growing tree with deep roots'.
Logan
A Scottish name meaning 'Hollow and empty'.
London
Even if you've never visited, you can choose the name London for your son or daughter and be confident of a timeless, unisex name.
Lucian
A traditional Italian name.
Lux
This name comes from the Latin word for 'light' and it is stunning for boys and girls.
Mani
Marley or Marlee
Honour the reggae legend himself by bestowing this name on your child!  Great name for the musical parents!
Marlow
A variant on the surname Marlowe, which means 'remnants of a lake' this name is an unusual moniker for both genders.
Mason
This name, meaning 'stoneworker' has always been very popular with boys, but we've seen hints that it's starting to be assigned to girls too.
Max
Maxwell 
Jessica Simpson started a trend in 2012 when she named her daughter Maxwell, and although this name is still rare, we sense a trend.
McKenzie
Merrick
Merrick is a Welsh name meaning 'Fame and Power'.
Merritt
A great name that stands for solidarity and grace.
Micah or Mika
An Old Testament name, Micah wasn't really popular until the end of the 20th century, and even now, it's only just been introduced to the ladies.
Misha or Mischa
Misha has been a popular boy's name in Russia, and a popular girl's name elsewhere, so hedge your bets.
Monroe
Marilyn still lives on with this gorgeous sounding name for both boys and girls!
Montana
State names are always a popular choice, even in Australia, and Montana is no exception.
Morgan
Morgan is a Welsh and Old English name meaning 'Unsettled water'.
Murphy
Originating from an Irish surname, the movie Interstellar brought this name into the limelight for girls.

Stockist: The Pretty Piggy. (Ships from United States)
Neo
There's more to this name than the Matrix. A short and sweet title, it means both 'gift' in Tswana, and 'new' in Greek.
Nico
Nico is a shortened form of Nicholas and is Dutch in origin.
Noel or Noelle
A very Christmassy themed baby name.
Oakley
Means 'From the Old Oak Tree'.
Ocean
If you aren't wanting to gender this one adding anything on the end (i.e. Oceanus, Oceana, Oceane), this name is, literally, all natural.
Orion
Like the star formation, this name might have a male energy, but in reality, it's a strong name with cosmic potential.
Owen
This name made the list not because it is something of a common boy's name, but because it's becoming quite an unusual girls name. Singer-songwriter Michelle Branch named her daughter Owen in 2005.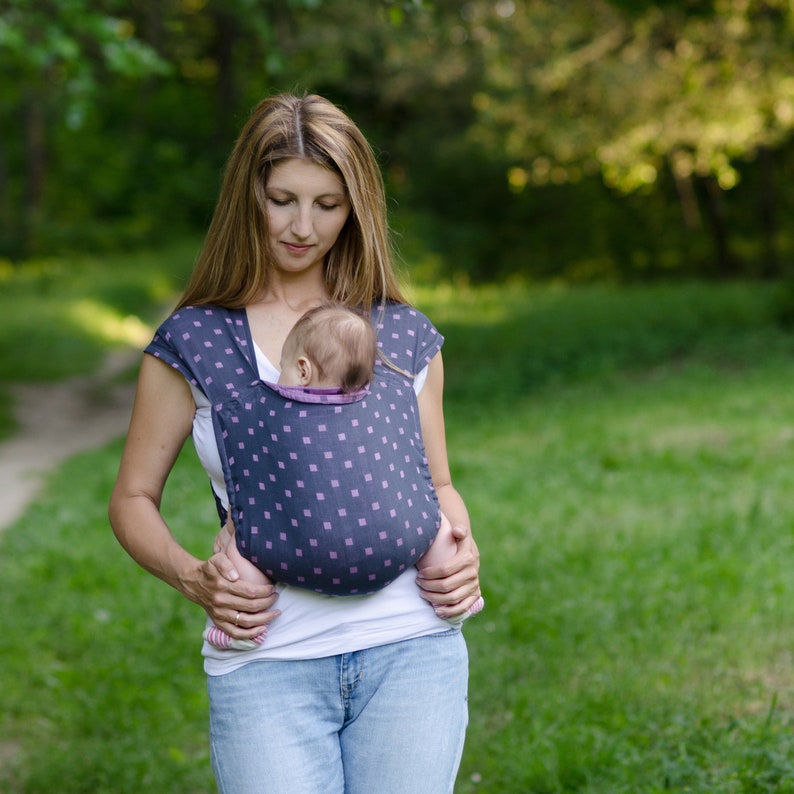 Mei Tai Baby Carrier for Newborns and Toddlers. Stockist: Okrosh (Ships from Ukraine)
Parker
An English occupational surname meaning 'keeper of the park', this name will suit a naturalist down to the dirt.
Paxton
Originally a surname that may have derived from a town name, Paxton is a classy name for either gender.
Penn 
Thought to mean 'head' or 'top' in Welsh, this unusual name was held by Gossip Girl actor Penn Badgley.
Perry
An old name coming back into fashion!
Phoenix
It's a hassle to spell, but this name is soaked in meaning and history, perfect for a new birth.
Presley or Presleigh
Honour the king himself with this star-struck moniker, sure to give your kid an appreciation of the good things in life.
The Bedtime Loft Cot in Gold from Baby Bunting
Quest
Quinby
Quinn
Originally an Irish surname, this name shot to popularity in several countries not so long ago, in both boys' and girls' lists.
Raine
Not quite as odd as Rain, this name may actually be based on the French word for 'queen'.
Raleigh
Originally a boy's name, modern couples are beginning to realise how Raleigh can be a beautiful name for a baby girl as well.
Ramsey
A good one for the Game of Thrones fans that want something a little dark.
Reagan or Regan
An Irish surname with a presidential reputation, this name has a perfect fit for your little one's leadership dream.
Reece
A Welch baby name meaning 'Ardent and Fiery'.
Reed or Reid
An English name meaning 'Red Haired'.
Reef
A recent baby name, it means 'Coral'.
The Avent Double Electric Comfort Breast Pump – Grab it here >
Remy
Possibly derived from the Latin word of 'oarsman', Remi is a French name that has seen popularity as a unisex name in English-speaking countries.
Reyes 
Means 'kings' in Spanish, but this lordly name is just as suited to a girl as it is a boy.
Rhett
From the dashing character in Gone with the Wind.
Riley
Riley is Old English for 'Wood Clearing'
Rio
This is a Spanish or Portuguese name that means 'river', but a version of the name also appears in Japan, with a variety of meanings.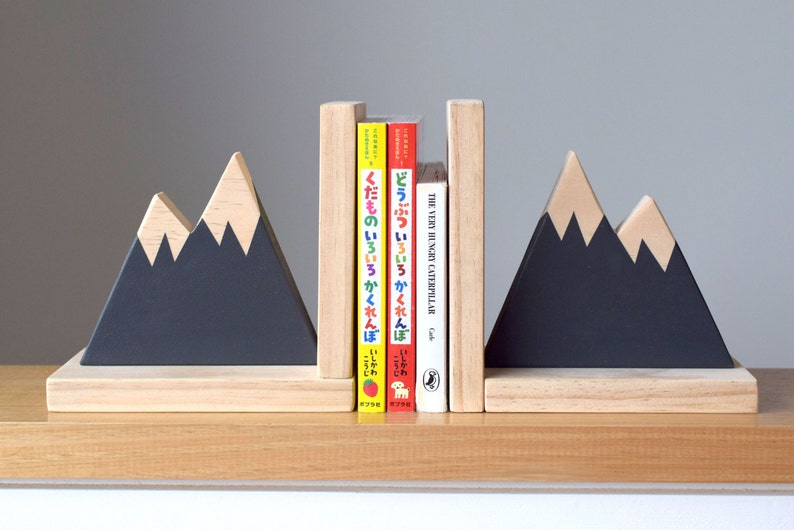 Mountain Peak Bookends for Nursery. Stockist: Hachi and Tegs.  (Ships from Australia)
River
A nature-lover's name, River has been seen on girls and boys all over the world, and it isn't out of style yet.z
Robin
Batman's sidekick and a stunning red-chested bird, this name has a lot going for it.
Rory 
Popular in Ireland and Scotland, this name was originally a boy's name, but the ladies have embraced it.
Roshan
Meaning 'light and bright' in Persian, this is a gorgeous name that rolls of the tongue, regardless of the gender.
Rowan
Originating from either an Irish surname, or from the Rowan tree, this name is very popular in Canada, but has yet to grow on Australian shores.
Roux (Prounounced Roo)
Roux is a French name meaning 'Reddish Brown'.
Ryan
Ryan is an Irish name meaning 'Little one from Royalty'.
The Peanut Shell Nursing Cover in Grey Chevron from Baby Bunting
Rylan
Thought to be a variation on an English surname, this name is like a twist on the overdone Ryan.
Sacha
This Russian name is quite common in the motherland among boys, but here in Australia, it suits girls as well.
Sage
This name has links to both the herb, and the wise person, and makes for a simple, unisex title.
Samar
Meaning 'evening conversation' in Arabic, this unusual name is easily given to either your son or daughter.
Sawyer
Sawyer was a very traditional surname but has become popular as a name for both boys and girls.  It means 'Woodcutter'.
Scout 
Made famous in Harper Lee's "To Kill A Mockingbird," it is derived from a French word that means 'to listen'.
Baby Shower Gift Box from Myla and Co
Skyler
Shae or Shay
It might look like the butter, but this name is thought to mean 'Admirable', and is a twist on the more common Shay.
Shiloh
Thought to mean 'tranquil' in Hebrew, this name might sound familiar as it's the moniker of one of the Brangelina children.
Skye
Simple, gorgeous, and easily assigned to either gender, Skye is a great go-to name for nature-loving parents.
Skylar
Thought to originate from the Dutch word for 'scholar', this name now has more links to a more relaxed version of Taylor.
Sloane
Sloane is an Irish-Gaelic name meaning 'From a tribe of warriors.'.
Sparrow
This delightful bird name doesn't pick between girls and boys, but flies free with both.
Stirling or Sterling
Traditionally a boys name, it means 'From the City of Stirling'.  Made famous from the Adult cartoon 'Archer'.
Wearing a Maternity Gown to Your Labour is Now a Thing – See the range here >
Storm
Like most of the odd, nature-related names, Storm has always been a unisex moniker. It might not suit all, but it's definitely a favourite.
Sutton
Very US oriented – another surname name turned into a first name name.  Say that fast three times!
Sydney or Sidney
Named after the capital of New South Wales – it is an old fashioned name that has come back into vogue.
Tanner
An occupational name for a tanner or a person who tanned leather hides, this moniker is great for both boys and girls.
Tatum
An English name meaning 'Homestead.'
Taylor
A French name meaning 'Tailor' or 'One who sews and cuts.'
Teegan
True or Tru
Instilling honesty in your kids is hard, maybe it will be easier with this moniker?
Quarantine Baby Onesie from Etsy
Vahn
Val 
If you want short and sweet, then Val is ideal. No need to lengthen it out to Valentine or Valerie, just stick with the first three letters.
Vero
Vesper
You might be thinking of the scooter, but this name may actually come from a Latin base word meaning 'evening'.
Waverley
Wesley
Derived from the Old English words "west" and "leah" meaning wood, clearing, meadow, the name is an amazing choice for your baby boy or girl.
West
Very Gender-Neutral.  Very 2018.
Willow
A fantastic gender-neutral name – made popular by the movie The Princess Bride.
Personalised Night Light from Etsy
Winter
Winter has been a popular name since the 9th Century.  It means 'The cold season'.
Wren 
An English word for the little songbird, this name is ideal for a music lover of any sex.
Wyatt 
Originally stuck firmly in the last name category, Wyatt is seeing a resurgence in both genders.
Wynne or Wynn
Means 'Fair' or 'White'
Xen
Means' Tranquil'
Yael or Yale
Is a Hebrew name meaning 'Mountain Goat'.  That doesn't sound pretty, but the name sure does.
Yarden
Zane
Zane is an Old English name meaning 'God's gracious gift.'
Zeal
Ziv
Meaning 'bright and radiant' in Hebrew, this name is short and sweet, just how you like it.
What unisex or gender neutral baby name do you like?